華道体験教室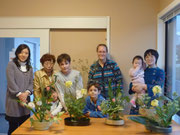 Friday, October 22, 2010
Family Lesson for the art of flower arrangement was held by inviting Ms. OHNO Kohgetsu as an instructor.
柏市文化連盟前副会長の大野晃月先生をお迎えして、華道体験教室をロッジ居住のファミリー向けに開催しました。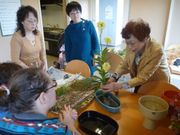 Ms. Ohno taught the flower arrangement very kindly. We'd like to express our sincere thanks to her. In addition, we'd also like to express our thanks to Ms. MATSUDA Tsukiko, who kindly introduced Ms. Ohno to us.
大野先生には大変親切にご指導いただきました。どうもありがとうございました。
また、大野先生は、柏グッドウィルガイドの松田月子様にご紹介いただきました。併せてお礼を申し上げます。