第41回旭連会舞踊発表会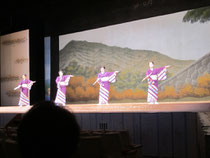 October 23, 2011
Thanks to FUSEN Kyokuren sensei, some of the Kashiwa International Rodge residents participated in the 41st Kyokuren-Kai Japanese Dance Recital.
The picture is "Miyagino Bon-uta" by 2 lodge residents and 2 former residents.
富泉旭連先生のご厚意で、今年もロッジ居住者有志が旭連会舞踊発表会に出演させていただきました。
写真は、ロッジ居住者2名と元居住者2名による「宮城野盆唄」です。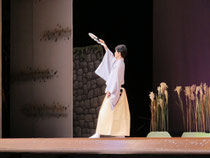 I also joined and danced "Kuroda-bushi" alone this year.
私も参加させていただきました。今年は向こう見ずにも「黒田節」という演目をソロで踊らせていただきました。
Place: Large Hall in Kashiwa Civic Culture Hall (Shimin-bunka-kaikan)
場所:柏市民文化会館 大ホール
http://onuki.jimdo.com/miscellaneous/kashiwa-shimin-bunka-kaikan/
http://www.city.kashiwa.lg.jp/soshiki/053100/p002152.html
Date: Sunday, October 23th
Open 10:00
Start 10:30
End 17:00
Admission free.
No reservations needed.
<Time Schedule>
10:00-Hall Open
Morning Session 10:30-12:00
No.1 Kashiwa Odori 柏おどり by Mamy Lalaina Rahelinirina, Mary Mar Noblezada, Hsiang-Yun Wu,Wei Ting Chien
No.3 Hanamachi Ichidai 花街一代 by Wei Ting Chien
No.9 Tsugaru 津軽 by Hsiang-Yun Wu
Afternoon Session 13:00-
No.16 Yutaka 豊 by Fusen Kyokuren-Sensei 冨泉旭連先生
No.23 Miyagino Bon Uta 宮城野盆唄 by Mamy Lalaina Rahelinirina, Mary Mar Noblezada, Hsiang-Yun Wu,Wei Ting Chien
No.27 Kuroda Bushi 黒田節 by Onuki Motoharu 小貫元治
No.33 Amagi Goe 天城越え by Hsiang-Yun Wu,Wei Ting Chien